FILM & TELEVISION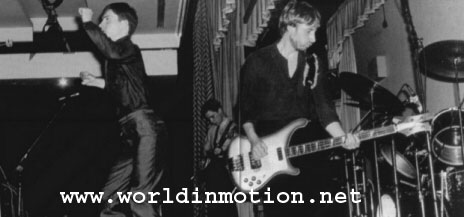 ---
20/9/78 GRANADA STUDIO 2, MANCHESTER
Performance: Shadowplay
Broadcast on Granada Reports, with negative offcuts from the World in Action about the CIA chromakeyed behind the group.
---
14/3/79: BOWDON VALE YOUTH CLUB
Three songs filmed by Malcolm Whitehead as part of a 17 minute Super 8 film which also included: material shot during UNKNOWN PLEASURES rehearsal at TJ Davidson's, an interview with Rob Gretton recorded 23/3/79; and part of a speech by Manchester's then Chief Constable, James Anderton.
A version of this film was shown at the Scala Cinema in London on 13/9/79 - an event given a FAC number, FAC 9.
---
19/7/79 What's On: Granada TV
Performance: She's Lost Control
Version recorded live in the studio and broadcast on Granada 2.
---
15/9/79 SOMETHING ELSE, BBC 2
Performance: Transmission, She's Lost Control
Interview with Steve Morris and Tony Wilson.
---
30/9/79: NO CITY FUN
A 12 min. Super 8 film by Charles Salem; text by Liz Naylor (based on an article in CITY FUN) and music from UNKNOWN PLEASURES.
---
16/10/79: PLAN K, BRUSSELS
At Least part of this concert was filmed as there is some slow motion footage on HERE ARE THE YOUNG MEN (FACT 37)
---
27/10/79: APOLLO, MANCHESTER
Performance: Dead Souls, Love Will Tear Us Apart, Shadowplay, She's Lost Control
Both nights at the Apollo were videotaped in full (on 1/2 inch tape) by Buzzcocks' manager Richard Boon. All songs were released on the Factory video, HERE ARE THE YOUNG MEN (FACT 37)
---
28/10/79: APOLLO, MANCHESTER
Performance: Day Of The Lords, Transmission, Sound Of Music, Walked In Line, I Remember Nothing
---
9-10/11/79: RAINBOW THEATRE, LONDON
According to "The Factory Story" Book the final 2 Buzzcocks tour gigs 9 & 10 November 1979 were taped & filmed.
---
18/01/80: EFFENAAR, EINDHOVEN, HOLLAND
Performance: Digital, Colony, New Dawn Fades, Autosuggestion
Filmed on Super 8.
---
28/4/80 LOVE WILL TEAR US APART PROMO VIDEO
Several versions of this video were edited out of this performance at TJ Davidson Rehearsal Studios. It was directed by Stuart Orme, and first shown on Granada's Saturday morning children's program, FUN FACTORY, on the 26th June 1980.
Manchester DJ Ray Teret introduced the clip thus: 'Joy Division isn't a female vocalist, it's a band.