NEW ORDER VIDEOGRAPHY
1993 - 2006
New Order Story
New Order Story
November 1993

CA

1993

( Polygram Video 440 087 135-3 ) [NTSC] *

JP

1993

( Polygram Video POVD-1007 ) [NTSC] *

UK

1993

( London Records ) [28/08/93][Promo] *

UK

1993

( London/Polygram Video 087 134 - 3 ) [PAL] *

US

1995

( Lumivision LVD 9510 )

2X

JP

1993

( Polygram Video POLD-1007/8 ) [NTSC] */***

US

2006

(

Rhino R2 970485

) [

Released May 9, 2006

]
Transmission
Love Will Tear Us Apart
Ceremony
Temptation
Blue Monday
Touched By The Hand Of God
Bizarre Love Triangle
Confusion
Shellshock
State Of The Nation
Perfect Kiss
True Faith
Round & Round
World In Motion
Fine Time
Regret
Temptation
Everyone Everywhere
Ruined In A Day
World
Atmosphere
| | | | |
| --- | --- | --- | --- |
| | US | 1994 | ( Warner Reprise Video35455 D20802) [4/01/94] |
| | US | 1994 | ( Warner Reprise Video 38374-3 ) [NTSC Release 02/08/94] ** |
Fine Time
Round & Round
Run
World In Motion
Regret
World (The Price Of Love)
[Also including excerpts from: ]
Atmosphere
Transmission
Love Will Tear Us Apart
Ceremony
Temptation
Blue Monday
Shellshock
Age Of Consent
State Of The Nation
True Faith
Ruined In A Day
* Approximate running time 140 minutes.
** Approximate running time 60 minutes.
*** Gatefold sleeve, with lyrics included.
Cameo appearance from Pottsy (Monaco): Pottsy appear in the audience on the NO show while Keith Allen. he's sitting about two places over from Hooky.
| | | | | |
| --- | --- | --- | --- | --- |
| | | | | |
| US LaserDisc | | | | |
---
B

RIT AWARDS 1994


W

NR


199

4



| | | | |
| --- | --- | --- | --- |
| | UK | 1994 | ( WNR 2040 ) |
Regret
- Various Artists.
?-(The Best Of) New Order
December 1994

| | | | |
| --- | --- | --- | --- |
| | JP | 1995 | ( Polygram Video POVD-1011 ) [NTSC][Fold-out w/ Lyrics] |
| | UK | 1994 | ( London Records 90 Ltd. 633 730-3 ) [PAL] |
| | JP | 1995 | ( Polygram Video POLD-1011 ) [LD NTSC] |
4 : 23 True Faith-94
4 : 06 Regret
3 : 38 Run
3 : 47 Bizarre Love Triangle
3 : 06 Fine Time
9 : 10 The Perfect Kiss
3 : 12 Shellshock
3 : 55 Confusion
4 : 03 Blue Monday-88
3 : 46 Round & Round-94
3 : 47 World (the Price of Love)
3 : 50 Ruined In A Day
3 : 30 State Of The Nation
3 : 40 Touched By The Hand Of God
3 : 56 World In Motion
3 : 44 Spooky
4 : 14 True Faith
3 : 43 Round & Round "Patti"
| | | | |
| --- | --- | --- | --- |
| | | | |
| VHS Japan | Confusion Video | | VHS UK |
316
W

arner


APRIL 16, 2001

BR

2001

(Warner Video Brazil 8573-84802-2)

JP

2001

( WPBR-90028 ) [Released 01.05.23]

JP

2001

( WPBR-90123 ) [Released 01.11.07]

Initial pressing only limited release

]

JP

2002

( WPBR-90

208

) [Released 0

2

.11.0

1

]

Initial pressing only limited release

]

UK

2001

( Warner Video 8573-84802-2 )

US

2003

( WAMO )[Promo DVD no Sleeve]

US

2003

( Rhino R2 970194 )[Promo with Picture Sleeve]

US

2003

( Rhino R2 970194 )[Released 12.08.03]
NEW YORK 18 NOVEMBER 81 (TARAS SHEVCHENKO)

I.C.B.

Dreams Never End

Everything's Gone Green

Truth

Senses

Procession

Ceremony

Denial

Temptation

READING FESTIVAL 30 AUGUST 98

Regret

Touched By The Hand Of God

Isolation

Atmosphere

Heart And Soul

Paradise

Bizarre Love Triangle

True Faith

Temptation

Blue Monday

World In Motion

TEMPTATION

Filmed for the 2002 Commonwealth Games

AND IN CONVERSATION SEPT 5, 2000

Interview filmed at Ampersand Club, Manchester
Picture Format :
PAL 4:3
Multiple Viewing Angles:
1
Disc Format:
DVD-9
Duration:
Approx. 132 Mins
Language:
English
Subtitles:
English / Deutsch
Audio Format
Dolby Digital 5.1
Regions Code:
2/3/4/5/6
From CREATIVE REVIEW: "The renowned collaboration of Peter Saville and New Order continues with the release of the band's first DVD, NewOrder 3 16. The disc has three sections: a 1981 New York gig, a 1998 show at Reading and an interview from March last year. Each is introduced using abstract imagery of the band, art directed by Saville: Photoshop filters were employed on live footage to create Saville's shredding effect. 'The three pieces have very little in common: only the people', explains Saville. 'I wanted the graphics to be of the band in some way and to pertain to live performance, so we tried to achieve something that would capture the mood in a completely abstract way.' The DVD was produced by Abbey Road Interactive. Design by Howard Wakefield"
FINSBURY PARK / 511




Warner




December 09, 2002



UK

2003

(

Warner Video

0927 49366-3

)

AU

2003

(

Warner Video

0927493662

)

[Released

April 7

, 2003

]

[Peter Hook Sleeve][Region Code 4 ]

CA

2003

(

Warner Video

2 49366

)

[Released

Jan

2

1, 2003

]

[Peter Hook Sleeve][Region Code 1 NTSC]

FR

2002

(

Warner Video

0927 49366-2

)

[Peter Hook Sleeve][Sticker in French]

UK

2002

(

Warner Video

0927 49366-2

)

JP

2002

(

Warner Video

WPBR-90152

)[Released Dec 26]

[Peter Hook Sleeve][Region Code 2]

JP

2004

(

Warner Video

WPBR-90

418

)[Released Nov 03]

[Peter Hook Sleeve][Region Code 2]

US

2003

(

WAMO )[Promo DVD no Sleeve]

US

2003

(

Rhino R2 970195 )[Promo with Picture Sleeve]

US

2003

(

Rhino R2 970195 )[Released 12.08.03]
---
"A testament to New Order's pulling power" - Muzik





- "Exciting and contemporary" - The Guardian
"Fresh, exhilarating and relevant" - Billboard.com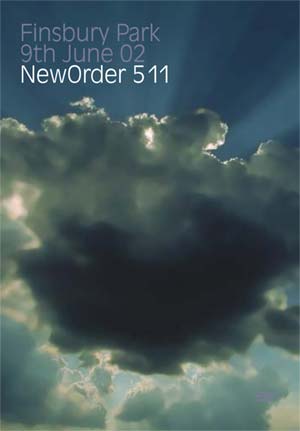 Warner Music Vision marks more than two decades of New Order with a stunning live performance DVD and VHS release - NewOrder 511 on 9th December.

Continuously at the cutting edge in music video evolution, New Order is a different breed when performing live. Bernard Sumner's abstract lyrics, Peter Hook's soaring bass-as-lead-guitar and mournful catchy tunes mesmerised audiences on their first UK tour in eight years. NewOrder 511 is an open air spectacular and features 16 tracks, 5 Joy Division tracks and 11 from New Order's impressive repertoire, hence the title NewOrder 511.
More than 10,000 New Order fans braved the mud to see the band perform Blue Monday on a black cloudy Sunday as torrential rain had turned the site into a quagmire by early afternoon. However, once the supporting acts had done their thing and New Order hit the stage the sun came out for the first time and held off during their storming set. "This miraculous occurrence was the inspiration for the sleeve artwork". "The shot of the sun about to break through the dreary clouds was approved by the band as they felt it not only represented the physicality of the weather on the day, but also how it influenced their vibrant performance." Says Howard Wakefield of Saville Associates Ltd who, with Peter Saville, creates all of the band's impressive sleeve art.
This live concert includes New Order in all their guises from the anthemic True Faith to the slick dance beats of Regret from the Republic album to the superb guitar rock-pop of Crystal from their most recent Top 10 album Get Ready. Also included is a performance of the track Brutal from the smash hit film The Beach.
New Order formed in 1980, in Manchester, England. They have released six studio albums, and 34 singles, including the massive Number One World Cup anthem, World In Motion, and the best-selling 12" single of all time, Blue Monday. Their innovative, artistic videos and inspirational LP artwork have won international awards. They were part owners of Manchester's world-famous Hacienda nightclub made infamous by the hit movie 24-Hour Party People.
| | |
| --- | --- |
| New Order have changed the face of pop music, crafting emotional music on machines, conjuring romance with flint-eyed lyrics, soul with a diamond centre, brilliance that sells millions. They make electronica for rock fans, future-disco for post-punks, heart music for head people, art for drunks. They unite loved-up acidheads, dressed-down musos, handbaggers, housewives, spotty students and football hooligans. They prove that cleverness and bloody-mindedness and beauty and wit can beat rock at its own clod-hopping game. No photos. No encores. No compromise. Just exhilarating, life-changing, lose-your-mind-find-your-feelings noise. | |
Presented on DVD in stunning crystal clear picture and a choice of audio settings including Dolby Digital 5.1 and DTS, the disc offers further insights into the world of New Order with exclusive backstage footage and a documentary.
A new 4 disc Best Of New Order CD collection entitled Retro is soon to be released chronicling the history of this British musical institution and the band have just returned to the studio to begin recording a new album.
---
TRACK LISTING
CRYSTAL
SHE'S LOST CONTROL
RADIO LIVE TRANSMISSION
BIZARRE LOVE TRIANGLE
REGRET
TRUE FAITH
CEREMONY
TEMPTATION
60 MPH
LOVE WILL TEAR US APART AGAIN
ATMOSPHERE
DIGITAL
BRUTAL
BLUE MONDAY
CLOSE RANGE
YOUR SILENT FACE
---
PRODUCT DETAILS
Title
NewOrder 511
Release Date
9th December 2002
Certificate
Exempt
Format
DVD & VHS Retail
DVD Special Features

Documentary (13 mins)
Behind The Scenes Footage (3 mins)

Screen Ratio
16:9 Anamorphic Widescreen
DVD Soundtrack

LPC-M Stereo
Dolby Digital 5.1 Surround Sound
DTS

Concert Running Time
89 mins approximately
Total Running Time
105 mins approximately
Catalogue Number
DVD: 0927493662
VHS: 0927493663
Barcode Number
DVD: (0)8-0927493662-2
VHS: (0)8-0927493663-9
Price
DVD: £19.99 RRP / £13.61 DP
VHS: £14.99 RRP / £10.21 DP
24 HOUR PARTY PEOPLE




FACDVD424




January 27th, 2003




UK

2003

(

Pathe P9036S

)

(Hard Shell)

US

2003

(MGM 1004027)(Soft shell)(Available only for rental)

2x

AU

2003

(

MMA 2064 )[released date August 13th, 2003]

JP

2003

(

Media Factory Sample

)

JP

2003

(

Media Factory ZMBY-1548

)

[released date September 5th, 2003]

UK

2002

(

Pathe

)

[rental dvd] [released date August 26th, 2002]

2X

UK

2003

(

Pathe FACDVD424

)

2X

UK

2003

(

Pathe FACDVD424

)

[exclusive HMV sleeve numbered edition]

UK

2002

(

Pathe P9036VDVD

)

US

2002

(

United Artists

)(Promo Screener sent to Academy Award "For Your Consideration")

US

2003

(

MGM 1004028

)

[Released January 21st]
Twenty Four Hour Party People (2-Disc Set)
(Special Edition)



"Brilliant. I can't praise this film highly enough"
- Irvine Welsh.
Before Ibiza, there was Manchester. Before Manumission, there was the Haçienda. Before New Order, there was Joy Division. This is their true story and the history of rave culture, told through the eyes of the man who started it all…. Tony Wilson (Coogan).
Manchester 1976: Cambridge educated Granada TV presenter Tony Wilson is at a low-key Sex Pistols gig. Totally inspired by this pivotal moment in music history, he sets up a record label, Factory Records signing first Joy Division (who go on to become New Order), A Certain Ratio and the Happy Mondays, who all become significant artists of their time. What ensues is a tale of music, sex, drugs, larger-than-life characters, and the birth of one of the most famous dance clubs in the world, The Hacienda - a Mecca for clubbers as famous as the likes of Studio 54. Graphically depicting the music and dance heritage of the late 70's to the early 90's, this black comedy documents the vibrancy that made Manchester the place to be.
From that seminal Sex Pistols gig, 24 Hour Party People journeys through the tragic death of Joy Division singer Ian Curtis (Sean Harris) to the infamous Haçienda drug culture, with Wilson's inflated ego and naïve confidence in his bands eventually leading to his downfall - and that of the Haçienda.
Joining in the pills, thrills and bellyaches are a veritable who's who of British comedy talent including John Thompson (Cold Feet), Ralf Little (The Royle Family), Simon Pegg (Spaced), Peter Kay and Keith Allen. The DVD contains so much gear, it will keep you up all night from two audio commentaries, from both the man himself - Tony Wilson and Steve Coogan, 24 deleted scenes, Interviews, Peter Saville designs and an artists' commentary and much more!

Actors
Director
Studio
Special Features: (info)
Disc 1:
Bizarre Love Triangle - Audio Commentary featuring Tony Wilson / Audio Commentary featuring Steve Coogan & Andrew Eaton
Sleeve Notes - A who's who and what's what
Unknown Pleasures - 24 Deleted scenes
Pills 'N' Thrills and Bellyaches - Interviews
Here to Stay: New Order music video
24 FPS - Original theatrical trailer
Disc 2:
From the Factory Floor - Artists' Commentary from Peter Hook (New Order), Rowetta (Happy Mondays), Leroy Richardson (Haçienda Manager), Bruce Mitchell (Durutti Column), Miranda Sawyer (Journalist), Bobby Langley (Hacienda DJ) and Martin Moscrop (A Certain Ratio)
Portrait of a Filmmaker: Michael Winterbottom documentary
Peter Saville Gallery: Designs with Peter Saville / Tony Wilson commentary

Later…LOUDER
W

arner




Ma

y

5th 2003



UK

2003

(

Warner Video

927499702

)

[Promo NO P.S. 07/03/03][With Press Release]

UK

2003

(

Warner Video

0927 49254-2

)
---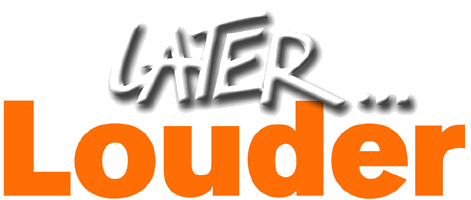 Warner Music Vision continues to showcase the best moments from BBC2's flagship music show on 5th May 2003 with Later…LOUDER, a DVD collection of Later's greatest rock music performances. This release follows last year's DVD celebration of Ten Years Later…with Jools Holland and is the first of several genre-related DVDs from the Later stable.
The critically acclaimed Later with Jools Holland is still the most respected and discerning music show on TV. Now in its 11th year an appearance on the show is a priority for all artists and is often a band's only specified TV performance. Foo Fighters' front man Dave Grohl interviewed on the Later…LOUDER DVD tells how he loves Later as it is "the only show like this in the entire world" and "a good place to see bands that you've never seen live before perform 3 or 4 songs". He goes on to say how the format is a refreshing change from the chat show circuit as "it's all about the music". Shot live, and normally in one take, 'Later' is essential viewing to witness the world's finest artists performing live in an intimate setting.
On Later…LOUDER Jools Holland introduces us to some of the greatest contemporary rockers of the past ten years, from Ash, Hole, Foo Fighters, Garbage, The Hives and The White Stripes to New Order, Primal Scream and Metallica.
Later…LOUDER explores the 'Later' experience further with eight interviews including an exclusive with the Foo Fighters never shown on TV along with The Hives, Courtney Love, PJ Harvey, New Order, Metallica, Garbage and Henry Rollins. As with the first 'Later' DVD, Louder also allows you to program your 6 favourite tracks to play in a preferred sequence thus customising your viewing.
'Later' producer Alison Howe commented of the DVD, "When we compiled the tracklisting for Later...Louder, we decided that each performance had to be a) exciting b) glamorous and c) great for air-guitar to make the cut. From Sonic Youth in 1992 to Foo Fighters in 2002 - Later's been getting Louder for 10 years."
An essential purchase for all serious music fans Later…LOUDER will make an excellent addition to any rock enthusiast's collection. Look out for further genre-related 'Later' releases in 2003.
TRACK LISTING
ARTIST
SONG
DATE RECORDED
Foo Fighters
All My Life
December 2002
Queens of the Stone Age
No-one Knows
October 2002
Screaming Trees
All I Know
November 1996
The Hives
Main Offender
November 2001
Metallica
Wasting My Hate
November 1996
Ash
Burn Baby Burn
April 2002
Hole
Celebrity Skin
October 1998
Sonic Youth
Sugar Kane
December 1992
At The Drive-In
One Armed Scissor
December 2000
The Datsuns
Harmonic Generator
December 2002
Stereophonics
Vegas 2 Vegas
April 2002
The Von Bondies
Lack of Communication
May 2002
PJ Harvey
Big Exit
October 2001
The Jesus & Mary Chain
Snakedriver
July 1993
BRMC
Spread Your Love
May 2002
The Cardigans
My Favourite Game
May 1999
Rollins Band
On My Way to the Cage
May 1997
Mercury Rev
Goddes on a Hiway
April 1999
The White Stripes
Hotel Yorba
November 2001
Alice in Chains
Them Bones
May 1993
Garbage
I Think I'm Paranoid
May 1999
The Afghan Whigs
Somethin' Hot
October 1998
Dick Dale
Misirlou
January 1996
The Vines
Get Free
April 2002
Porno for Pyros
Orgasm
June 1993
New Order
Crystal
October 2001
The Soundtrack of Our Lives
Sister Surround
May 2002
Mazzy Star
Blue Flower
July 1994
The Black Crowes with Stereophonics
Twice as Hard
April 2001
Primal Scream
Accelerator
May 2000
PRODUCT DETAILS
Title
Later…LOUDER
Release Date
5th May 2003
Certificate
Exempt
Format
DVD Retail
DVD Special Features

Interviews / chats with The Hives, Courtney Love, PJ Harvey, New Order, Metallica, Garbage and Henry Rollins
DVD Exclusive Foo Fighters Interview
3 Play Options:

Play All
Select Songs
Programme your favourite 6 tracks

Aspect Ratio
1.77:1 Widescreen
DVD Soundtrack
Dolby Digital 2.0 Stereo
Running Time
2h 25 mins approximately, consisting:

Programme: 1hr 53 mins
Interviews: 23 mins
Foo Fighters Interview: 9 mins

Catalogue Number
0927499709
Barcode Number
(0)8-0927499709-8
DVD Price
£19.99 RRP
£13.61 DP
Ten Years Later…with Jools Holland is also available now on DVD
Catalogue Number: 0927 492542
What the press said of Ten Years Later…with Jools Holland on DVD
'Britain's best-ever music show?' - Total Guitar
'Astonishing stuff, stimulating juxtapositions' - Word Magazine
'Highly recommended 9/10' - DVD Monthly
'superbly put together compilation...which you really need to have in your collection' - Q
'Peerless' - Metro





- Uncut
Essential Links:
Visit the official 'Later' site at www.bbc.co.uk/later
Jools' official web site www.joolsholland.com
Top of The Pops: 40th Anniv




Nov 8, 2004



UK

2004

(

BBC 1403

)
1993 Regret
- Various Artists
---
ITEM




September

2005



CH

2005

(

Rhino R2 970482

) [

Chinese Pressing

]

JP

2005

( WPBR-90495 ) [

Released 2005/10/05

]

UK

2005

(

Warner

0349 70482

) [

Released Oct 3

]

US

2005

(

Rhino R2 970482

) [

Release Sept 20

]
Disc 1, "A Collection" contains the following videos:

Confusion
The Perfect Kiss
Shellshock
State Of The Nation
Bizarre Love Triangle
True Faith
Touched By The Hand Of God
Blue Monday '88
Run
World In Motion
Regret
Ruined In A Day
World
Spooky
1963
Crystal
60 Miles An Hour
Here To Stay
Krafty
Jetstream
Waiting For The Siren's Call
Alternates
Round & Round - USA/Patty
Regret - Baywatch
Crystal - Gina Birch Version
Paris/Beijing
Ceremony
Temptation
Live 1981
Temptation from 316

Disc 2 contains the documentary "New Order Story."

---