NEW ORDER DISCOGRAPHY
COMPILATIONS 2000 - 2006
SWITCHED ON




Telstar




March 27, 2000



| | | | |
| --- | --- | --- | --- |
| 2x | UK | 2000 | ( Telstar TTVCD3086 ) |
Blue Monday 88
- Various Artists
FOOTIE ANTHEMS




Virgin


J

une 06,

2000



| | | | |
| --- | --- | --- | --- |
| | UK | 2000 | ( VIRGIN VTDCD 310 ) |
World In Motion
Manchester United Beyond The Promised Land
November 27, 2000

UK

2000

( VIRGIN

CDR Acetate Promo

)

UK

2000

( VIRGIN VTCD 350 )
Track Listings

1. Things That Dreams Are Made Of - Bias feat. Toni Halliday
2. Red Alert - Basement Jaxx
3. Ever Fallen In Love (With Someone You Shouldn't Have) - Buzzcocks
4. Step On - Happy Mondays
5. Please Sir - Bias
6. Touched By The Hand Of God (Touched By The Hand Of Bias) - New Order
7. Chainmail - Curve
8. A Euphoric Feeling - Bias

9. Fools Gold - The Stone Roses
10. Fashion - Bias
11. Protection (Flood 2K Remix) - Massive Attack
12. Flashlegs (Suite) Edit - Echoboy
13. I Walk The Earth - King Biscuit Time
14. Footie Chants - Bias feat. Tom Jones
15. Stereo - Spooky
16. End Titles - Bias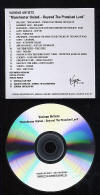 JUST BEAT 03


W

arner




December

2000



| | | | |
| --- | --- | --- | --- |
| 2x | US | 2000 | ( Warner / Reprise PRO-CD-100546 ) |
8 : 53 True Faith (Pink Noise Mix)
Various Artists / Contains bonus CDRom with CONFUSION VIDEO

2-CD set distributed exclusively to industry people at the Winter Music Conference in Florida
THE SHAUN RYDER SESSION
JANUARY 29, 2001

| | | | |
| --- | --- | --- | --- |
| 2X | UK | 2001 | ( PLANET GROOVE 02 ) |
Track Listings
Disc: 1

1. Voodoo ray - Guy Called Gerald
2. Summertime - DJ Jazzy Jeff & The Fresh Prince
3. It's a family affair - Sly & the Family Stone
4. Just be good to me - SOS Band
5. One nation under a groove - Funkadelic
6. It takes two - Rob Base & DJ EZ Rock

7. Confusion - New Order
8. Movin' too fast - Artful Dodger & Romina Johnson
9. It was a good day - Ice Cube
10. How many licks - Lil' Kim feat.Sisqo
11. Ever so clear - Bushwick Bill
12. Mind of a lunatic - Ghetto Boyz

Disc: 2

1. Do you know the way to San Jose - Dionne Warwick
2. Night Nurse - Gregory Isaacs
3. We are family - Sister Sledge
4. Teardrops - Womack & Womack
5. Mack the knife - Bobby Darin
6. Everybody's talkin' - Nilsson

7. Across 110th street - Bobby Womack
8. The Harder they come - Jimmy Cliff
9. It's not unusual - Tom Jones
10. Maggie May - Rod Stewart
11. Black magic woman - Santana
12. Je T'aime...moi non plus - Serge Gainsbourg & Jane Birkin

---
From the Artist:
My life has been like a movie, or more like a cartoon, and I've picked these songs because they have been the soundtrack to my life. I couldn't just pick one style of music, coz I've never been on just one trip, the songs show the different personalities and moods that I have, they're all different and they all mean as much to me as each other. It's an unfair question to ask people what their favorite song is, because it always depends on what mood your in. But music and life and relations and situations, everything that made me who I am is here in this soundtrack, and this is the soundtrack to my life.
C

OHESION




CV




February 19, 2001



| | | | |
| --- | --- | --- | --- |
| 2x | UK | 2001 | ( CV00001 ) |
4 : 22 Atmosphere (Live from Reading 1998)
- Various Artists (Monaco, Other Two…..)
ARTHUR BAKER - BREAKIN'




Perf




Oct 15, 2001



| | | | |
| --- | --- | --- | --- |
| 2X | UK | 2001 | ( Perfalb06 CD ) |
           

Confusion (Rough Mix) from the Streetwise remix 12".
ARMAND VAN HELDEN "Repro"




Armed Records




November 13

2001



| | | | |
| --- | --- | --- | --- |
| | US | 2001 | ( ZARM17CD ) |
1. Spin Spin Sugar [Armand's Dark Garage Mix] - Sneaker Pimps
2. Runaway [Mongoloids in Space Remix] - Nuyorican Soul
3. Sugar Is Sweeter [Armand's Drum 'N' Bass Mix] - CJ Bolland
4. Insomnia [Armand's Mission to Mars Mix] - Faithless
5. Bizarre Love Triangle [Armand Van Helden Mix]
6. My Love Is Deep [Armand's Dub of Doom] - Sara Parker

7. Slippin into Darkness
8. Automatic Lover [Armand's NYC-Miami Mix] - The Real McCoy
9. My Boo [Armand's Representing da East Mix] - Ghost Town DJ's
10. Search [Armand's Pu-Tang Mix] - Trancesetters
11. Luv Stuff [Ghetto House Groove] - Sagat
12. Funk [Ten Minutes of Funk Mix] - Daft Punk
NME – 2001 The Album Of The Year




NME




Dec 8th,

2001



| | | | |
| --- | --- | --- | --- |
| | UK | 2001 | ( NME AOTY DEC 2001 ) |
Turn My Way
- Various Artists
Rough Trade - Electronic 01





March

18th, 2002



| | | | |
| --- | --- | --- | --- |
| 2X | UK | 2001 | ( CDSTUMM203 ) |
           586
2 MANY DJ'S




PIAS




April

200

2

| | | | |
| --- | --- | --- | --- |
| | UK | 2002 | ( PIAS ) |
The Beach
2 many dj's:

"it's the b-side from 'blue monday' and basically it's the instrumental with a lot of 'swooshes' and echo's on it. we like to fuck around with this track, in this case we put the a cappella version of detroit grand pubahs' 'sandwiches' on top of it."

Various Artists
BEAUTIFUL GAME




Universal




May 27, 2002



2x

UK

2002

(

Universal 584 819-2

)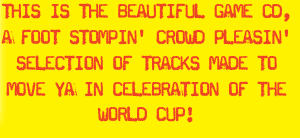 Track Listings
BACK TO MINE




DMC




September 30th,

2002



3x

UK

2002

(

DMC BACKLP11

)

[Unmixed]

AU

2002

(

DMC

)

[Promo with sticker and Flat card]

UK

2002

(

DMC

)

[Flat Card PS CDR Acetate]

UK

2002

(

DMC BACKCD11PROMO

)

UK

2002

(

DMC BACKCD11

)

US

2002

(

DMC USA

)

[Promo CDR Acetate][Release date Nov 05]
New Order behind new DJ mix album
Featuring tracks from Primal Scream, Missy Elliot, Doves, The Velvet Underground, Mantronix, Joey Beltram, and Rhythim is Rhythim. Also includes rare Patrick Cowley mix of Donna Summer "I Feel Love".
Tracklist + New Order Comments
01. Captain Beefheart and the Magic Band 'Big Eyed Beans From Venus'
A sci-fi blues freak out from the variable genius Van Vliet with spine tingling slide additions from Zoot Horn Rollo. Quite obviously the inspiration behind 'Confusion'
02. Primal Scream 'Higher Than the Sun'
A bit from the Orb's compressed pop mix and the stratospheric end bit from Weatherall's dub symphony with the metronomic Jah Wobble providing an unwavering backbone. Who could miss the similarities between this and Bizarre Love Triangle?
03. Missy Elliot 'The Rain (Supa Dupa Fly)'
Timbaland's twitchy rhythms versus the cranky observations of the lady in the inflatable space suit. This was massive on the Joy Division tour bus.
04. The Velvet Underground 'Venus in Furs'
The sleazy cool reflected in the distance between Peter Hook's feet when he used to wear those leather trousers is perfectly encapsulated in Lou Reed's pervily sublime steal of a famous mucky book and the sound of John Cale sawing a cello in half. Which somehow perfectly leads us beneath a motorway bridge near NorthendenŠ.
05. Doves 'M62 Song'
You can hear the trucks and cars on this dark lullaby recorded in the dead of night. And the mic is passed to a feller in a sparkly jacket and greasy hairŠ.
06. Roxy Music 'In Every Dream Home a Heartache'
Simultaneously sinister and hilarious this love song for an inflatable lady friend was the kind of thing that the responsible young citizens that went on to make up New Order would twist their impressionable minds with.
07. Cat Stevens 'Was Dog a Doughnut?'
A peak time classic at Jellybean's Funhouse when New Order first alighted in electro land NY. Chick Corea is playing keyboards on this. On paper it might seem ridiculous, in reality it is perfect.
08. Mantronix 'Bassline'
Before narrow-mindedness set up a fence between house and hip-hop, this was the kind of record that filled the floor with ease at the Hacienda. Lyrically it's all but irrelevant, but its frantic edits and undeniable energy still make it special.
09. The Groundhogs 'Cherry Red'
A psychotic energy flash from a much misunderstood abstract blues band who, while their contemporaries sang of pixies and hobbits, traversed the same idiosyncratic route as Joy Division did almost ten years later. Peter Hook would probably tell you that Tony McPhee says more about his life than JG Ballard.
10. Joey Beltram 'Energy Flash'
Downright demonic, during the creation of this mix, shards of this devilish techno masterpiece appeared to replay in other rooms in the building for no good reason. Also features the word 'Ecstasy' which, though now ridiculous, at the time had a certain frisson.
11. Donna Summer 'I Feel Love (Patrick Cowley mix)'
Edited down from its original 15-minute glory in order to keep it burning here, this record still sounds incredible in any form. What could they have been thinking/drinking in Munich back then?
12. Can 'Mushroom'
Krautrock underpinned by the inspirational drumming of Jaki Liebezeit who appears to have studied under James Brown while the rest of the band kept busy sellotaping bits of dark Velvet to Stockhausen's arty pants. And Explosions as a bonus- what more could you need in any piece of music?
13. Rhythim is Rhythim 'The Dance'
Almost 15 years old and still peerless in all it's skeletal glory. Let's leave some intellectuals to draw a line between this and something off Power Corruption and Lies.
14. Giorgio Vs Talla 2XLC 'E=MC2'
Acknowledged on more than one occasion by Bernard Sumner as a transitional influence on the fledgling New Order, this celebration of machine music is the only place to end.
"It's like the Hacienda never closed."
Q magazine (leading review, ****)
"Here's a look back at the past that might give a glimpse of the future - 14 tracks whose only linking factor is that they're all fucking great. Get with the programme."
Muzik (leading review, *****)
"This selection shows their keen ear for inspired guitar music, inventive machine sounds from the past and a hot new tune. Every track here is a winner... one of the best mix albums ever."
NME (9/10)
"The Back to Mine series has gone from strength to strength and this collection ups the ante yet again. New Order pull out the stops with a collection of decade straddling classics."
Music Week
"A treasure trove of afterhours excellence."
Touch
"... the best Back to Mine of the year... you always knew New Order had taste but this is just stupid... Genius."
Seven
"The eleventh in the excellent Back to Mine series sees the Manc lads choosing a fantastically mixed-bag of laid back tunes... This is perhaps the best Back to Mine yet."
Time Out
"... this could be the best Back to Mine yet... a lesson in great music for all whippersnappers."
FHM
HOPE




London




April 21st

2003



FR

2003

( London

50466 5846 2

)

[French Sticker]

UK

2003

( London

)

[Promo CDR Acetate]

UK

2003

( London

50466 5846 2

)

AU

2003

( London

50466 5846 2

)

[Release May 12th]

JP

2003

(

Warner WPCR- 11639

)

[Release May 28th][Obi + Lyrics]
           Vietnam
| | |
| --- | --- |
| | CDR ACETATE |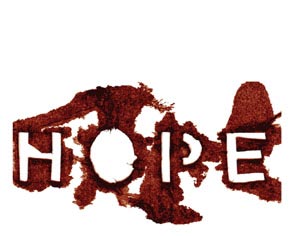 Travis * Avril Lavigne * Sir Paul McCartney * David Bowie
George Michael * Ronan Keating
Lee Ryan (Blue) * Beverley Knight
Moby * New Order * Basement Jaxx
Spiritualized * The Charlatans
Beth Orton * Tom McCrae * Billy Bragg
Yusuf Islam (Cat Stevens)
AUSTRALIA INFO
Stars Give Hope To Children Of Iraq


Eighteen of the world's top music stars -- among them Sir Paul McCartney, Avril Lavigne, David Bowie, New Order, Ronan Keating, Blue's Lee Ryan, Travis and George Michael -- have contributed exclusive new tracks to 'Hope', released on Monday May 12th in Australia to help the child victims of the war in Iraq.
"Whatever the politics, whatever the rights and wrongs of war, children are always the innocent victims so I am delighted to be able to make this small contribution to a magnificent project that I hope goes a long way to alleviating some of the pain and suffering," says Sir Paul McCartney.
All the acts are giving their services for free and Warner Music Australia has agreed to donate recording royalties payable from the album to War Child. Hope was recorded around the world in 25 days.
War Child was founded in 1993 in response to the conflict in the former Yugoslavia. The charity was responsible for the 1995 'Help' album -- recorded by 20 top bands and artists -- which raised more Ł1.25 million for the children of Bosnia. War Child has since expanded its fieldwork to conflicts around the world.
Whatever our individual views about the justification for the war, the suffering of children is something none of us can ignore. Hope is not a political album; the plight of children transcends politics. These songs are a plea for hope, without which the children of Iraq have nothing at all.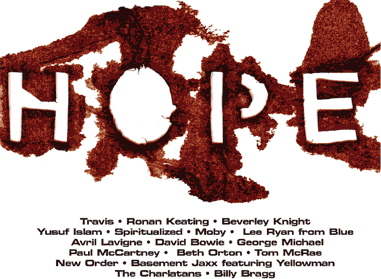 LEE COOMBS "Breakfast Of Champions"




Finger Lickin' Records




January 31

2005



| | | | |
| --- | --- | --- | --- |
| | UK | 2005 | ( FLRCD010 ) |
THE CRYSTAL METHOD "CSII"




Ultra Records




April 5 2005



| | | | |
| --- | --- | --- | --- |
| 2X | US | 2005 | ( UL1268-1 )(5 Tracks including New Order) |
| | | | |
| --- | --- | --- | --- |
| | US | 2005 | ( UL1268-2 ) |
| | | | |
| --- | --- | --- | --- |
| | US | 2005 | ( Promo ) |
1. Intro/The Crystal Method Intro
2. Gyromancer(Elite Force Remix)/PMT
3. Ghetto Fabulous/Elite Force
4. Come With Me/Hyper
5. The Crystal Method vs. The Doors(Roadhouse Blues Remix)/The Doors
6. We Have the Energy/Evil Nine
7. Ellis Salty(Meat Katie Remix)/Dylan Rhymes feat. Katherine
8. Keep Hope Alive(J.D.S Mix)/The Crystal Method
9. Speedfreak/Koma & Bones
10. Kalifornia/The Crystal Method feat. Kevin Beber
11. Octopus/Uberzone
12. Reign(False Prophet Mix)/UNKLE feat. Ian Brown
13. Starting Over(Elite Force Mix)/The Crystal Method
14. Bound Too Long(Hyper Mix)/The Crystal Method
15.
Bizarre
Love Triangle(The Crystal Method's CSII Mix)/New Order
16. 1979(New Originals 1799 Remix)/Smashing Pumpkins
DJ DAN"LIFT"




ThriveDance




18 Oct 2005



| | | | |
| --- | --- | --- | --- |
| | US | 2005 | ( 907422 ) |
New Order "Krafty (DJ Dan's Acid Dub)
THE HACIENDA CLASSICS




EMI




March 27 2006



3x

UK

2006

(

VTDCD 790 )
Confusion
Ruined In A Day (K-Klass Remix)
zero


A

pril 2006



UK

2006

(

Big Beat CDWIKD 270

) [

Promo Flat Card with Sticker

]

UK

2006

(

Big Beat CDWIKD 270

)
6 : 13 In A Lonely Place
A compilation of the work of Martin Hannett
VOL 2 - THE HACIENDA




Gut Active




May 23 2006



2x

UK

2006

(

Gut GACD01 )
The Beach
BEZ'S MADCHESTER ANTHEMS




WEA




June 5 2006



2x

UK

2006

(

WEA WMTV013 )
Blue Monday 88
Fine Time
NORTH BY NORTH WEST




Korova




June 19 2006



3x

UK

2006

(

Kode1001L )
Ceremony