Order in the house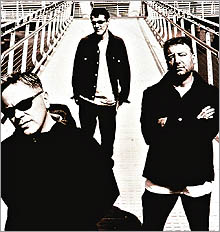 Northern soul . . . New Order.
Jon Casimir talks to Bernard Sumner, the rejuvenated, clean-living, boat-loving leader of Big Day Out headliners New Order.
What do you do when the drugs don't work any more, when a decade of high-octane clubbing, of alcohol, pills and powder suddenly seems like enough? You take up sailing, of course. Get your never-seen-daylight face out into the sun. Breathe air untainted by smoke. Find other uses for your leg muscles. At least, this is what Bernard Sumner did when his time came a few years ago.
"When I stopped all that partying," the New Order singer recalls, "I found I couldn't just sit at home and watch television. I felt like an old biddy. I needed something to replace the drug-taking. Sailing is a fantastic thing. And not just for the sailing but the places you can go. You've got places like the Whitsundays ..."
THE BIG DAY OUT
Where: Sydney Showground, Homebush Bay

When: January 26, 11am-midnight; New Order perform on the Blue Stage at 8.15pm

How much: $93.80

Bookings: 13 61 66

More information: New Order are also playing at the Hordern Pavilion on Wednesday at 7.30pm

---
Sumner, who keeps a boat moored in the Lake District, an hour from his Manchester home, sighs loudly and you can hear the longing in his voice as he returns to his subject.
"Just to sleep on a boat ... For most of my life I have stayed in hotels, touring with New Order. If I go on holiday in a hotel it doesn't seem like a holiday to me. But staying on a boat is great. You can get to places where tourists don't go, to places where there are no roads. My ambition is to sail around the South Pacific for a year, to Tahiti and Tonga. And I'm gonna do it."
The 46-year-old says that in the meantime he's looking forward to drifting around Sydney Harbour while the band are here this month. He also has plans to tramp about in some Queensland rainforest. By doing these things, he's determined to avoid the hotel bars, the late-opening clubs and the dinosaur-sized hangovers. Most of the time, anyway.
The person speaking is some distance from the Bernard Sumner who found himself in a Chicago hospital in 1993 listening to a doctor explain that chemical excess had burnt away most of his stomach lining. A slow and painful recovery from that particular binge persuaded Sumner, who avowedly "did not want to be one of rock 'n' roll's casualties", that New Order was best viewed in the past tense.
Touring had become toxic - the cocktail of road boredom and performance adrenaline, he says, is dangerous to people with limited willpower such as himself. On top of that, the band members were sick to death of each other. And no matter how much they earned from record and ticket sales, the cash seemed to disappear into the black holes of their record company, Factory, and the Hacienda, a Manchester nightclub they had bought in a (prolonged) moment of madness.
"Every time I did something with New Order it was like being hit with a stick - and I didn't want to be hit with a stick any more," he says. "We'd been together like sardines since we were 21. A lot of times I found that I was on tour in the middle of America or somewhere, thinking, 'What am I doing here? I don't want to be here. I want to be at home. I want to have another life.'"
Though a need to curb his excess had helped prompt his exit, Sumner didn't give his body much of a break. Instead, he jumped feet first into the club scene, shuttling between London, Manchester and Ibiza in an attempt to recapture his love of music.
"The difference was," he says, "I still wanted to get shitfaced, but I wanted to be a punter when I got shitfaced. I wanted to enjoy receiving music rather than putting music out." Sumner admits with a laugh that this clubbing desire was also fuelled by the fact that the band had sunk so much into the Hacienda: "I had paid all this money towards it so I wanted to go and f---ing well enjoy it.
"Eventually though," he says, "the scene turned sour. I was at a club once and someone pulled a gun. Everyone spread to the walls like bullrushes in the wind. And I was so off it, I just stood there facing this guy, who had a balaclava on and was pointing a big f---ing gun at me. The next day I thought maybe that was a little sign that the eight years I'd been doing it was enough. It was time to clean up. Sort of."
Sumner also faced the truth that his lifestyle was affecting his ability to do what he loved most: make music. He would party all weekend, then turn up at the studio on Monday too blurry to achieve anything.
Through this period in the mid-'90s, Sumner worked with former Smiths guitarist Johnny Marr in Electronic. The rest of New Order found other outlets. Bass player Peter Hook made records with Revenge and Monaco. Drummer Steve Morris and keyboardist Gillian Gilbert (a husband and wife team) formed The Other Two.
With the exception of Gilbert and Morris, none of them spoke for five years, though Hook and Sumner tripped over each other on a couple of occasions while propping up bars. Then in 1998, long-term manager Rob Gretton (who died the following year) faxed to ask whether they'd play three shows: a summer festival, a hometown concert and a New Year's Eve bash in London.
"We had a meeting above the Hacienda," Sumner recalls. "It was very strange, ringing that doorbell and knowing the rest of the band was in there. Within 10 minutes, everything was fine. No-one had any resentments. We all thought we'd never get back together again, then it just happened out of the blue. And I think because it happened like that, it was a great healer.
"I felt that I had fallen off a horse with New Order and the thing to do was to get back on again. Towards the end of the band, when I went on stage, I was pretty off it. And I wanted to prove to myself that I could do it straight."
The 1998 shows went off without a hitch and the members of New Order also remembered what they'd liked about each other. They cautiously returned to the studio to knock up a track for the film The Beach. When that experience proved enjoyable, they began work on an album, Get Ready, released last year to critical acclaim and commercial success.
Given the achievements of New Order in the 1980s, and of their previous band, Joy Division, in the decade before, it's hard not to wonder whether they considered the risk of adding a crappy, lacklustre reunion album to an otherwise impressive catalogue.