Tim Burgess

talks about...




2001

New Order "Power, Corruption And Lies"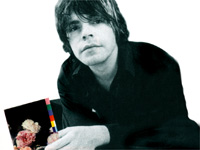 I was at school and going to see groups like The Vibrators and Anti Pasti when my friend, Richard Lynch, first told me about New Order. He used to wear their 'Ceremony' badge and I was fascinated by it because it didn't contain the group's name. The first single I owned was Temptation. I heard it at a party, loved it and bought it the next day. The sleeve pictured a piece of metal that had been covered in acid so that it looked mottled and blue. Temptation was imprinted on the front and could only be seen if the sleeve was held in a particular light. On the back it said Fact 33. That was the only information given. I was hooked.
Their music was a continuation of Joy Division, but then they made this bold statement in the form of Blue Monday. I like to think that it wasn't contrived or planned but instinctual. Blue Monday was released on 12-inch only and quickly became the biggest selling 12-inch. A 10-minute electro-dance record - it was wicked and daring because it incorporated elements of disco which no one liked at the time. The following week I bought Power, Corruption And Lies and it never came off my Boots Audio 2000 turntable for about a year. It changed my life and made me think that I could become a singer too. The record did really well off the back of Blue Monday but the single wasn't on it. What a fantastic idea! When we released our debut album, Some Friendly, on vinyl we didn't include the single The Only One I Know. That was because of New Order's influence.
Power, Corruption And Lies became my first lesson in lyric writing. Age Of Consent contains the line, "You don't have to tell me about the birds and the bees." In 1983 I was 16 so the lyric really appealed and the way Bernard sang was so childlike it made you believe anyone could do it. Peter Hook plays a wicked bass riff, reminiscent of Hong Kong Garden by Siouxsie And The Banshees.
In contrast, We All Stand is very slow, like marching music. Again there's the brilliant bass line and the lyric, "Three miles to go at the end of the road/The future is waiting for me." Their lyrics had a directness I could relate to. The sleeve said, "Words and Music by New Order"and there's that air of mystery. You don't really know who does what in the band and hopefully we've created that same mystique with The Charlatans.
Your Silent Face is New Order's most beautiful song. Everyone likened it to Kraftwerk who I'd never heard of. The last line, "You've caught me at a bad time/So why don't you piss off," turned beauty into chaos and made it total throwaway. New Order strived for perversity but they never lost their sense of humour, which is important for a fan to know. They didn't concern themselves with what the mainstream thought. There are only eight tracks on the album but each one makes you feel euphoric, on top of the world.
It was a very important time in Manchester. Electro and dance music was starting to happen and with New Order it became an all encompassing growing scene. The Hacienda had just opened. New Order showed their independent spirit by always playing there two or three times a year when they could have easily packed out three nights at the Apollo. The first time I saw them was at the Spectrum Club in Warrington. They were terrible. They'd always start with their weakest song. They'd come on, fumble about a bit. A sampler would go wrong or they would play out of tune. The audience didn't care. Once, they came on-stage for only one song. It lasted 22 minutes then they walked off. The Jesus And Mary Chain picked up on that. New Order liked to perform stunts.
Their contemporaries were Heaven 17 and Haircut 100. I hated them. New Order were the only band that didn't dress as they were told to. Smash Hits took the piss out of them. They transcended all boundaries playing modern, futuristic music but with punk rock attitude.
I met Bernard Sumner at Johnny Marr's bonfire party. I didn't speak to him much. He's a dry bastard but you don't want someone who's just plain sailing, do you?
(Interview by Lois Wilson)
© Copyright EMAP Digital Limited 2001. http://www.mojo4music.com
*************************************
ADMITS TO ONCE LIKING BAY CITY ROLLERS
ATN: You said in other interviews that you had posters of your heroes on the walls. What did your walls look like when you were a kid?
Burgess: It was ever changing. I think the first poster was the Bay City Rollers. I liked them at the time (says a little defensively, sheepishly). I was only seven at the time. They were the top. Then I liked Slade for a bit. I wasn't massive on Gary Glitter, because I couldn't ever work out what color his socks would be. Because he had all that glitter on, I would always be worrying what his socks would be like and that would ruin his image for me. That used to disturb me a bit. Mostly I liked Jam, and the New Order.
ATN: Did you like Joy Division before New Order?
Burgess: Yeah, Sort of. I got onto New Order because of a tune, "Everything's Going Great." When it came out, I can't remember what I heard about it, and then I bought "Temptation" and it just blew me away, so I went and bought everything they had ever done. I was a little too young for Joy Division.
Plus the Joy Division saga was a little too depressing, with Ian Curtis's suicide and everything. Joy Division's Unknown Pleasures. It's a little too dark. They had all that sort of mad Joy Division karma haunting them so they kept writing all that pop-py stuff to counteract the effect of the Joy Division.
ATN: Did you ever have a premonition that you'd be successful?
Burgess: This time, yeah.
ATN: I mean in life. Is this what you wanted to do?
Burgess: I dunno. Because I didn't know anyone who came from where I lived who'd ever been a pop star and I always thought there's no pop stars called Tim. That's what I used to think. So I used to put it to the back of my head. Until I think I found that Joy Division was from Mapplesfield and not Manchester, because I was from Northwich. I was born in Manchester, and moved back to Manchester when I was eighteen. But after the New Order I thought that somebody could do it from Northwich too.