Interview with Bernard Sumner


Steinberg


October

2001


The new New Order

New Order are, simply put, one of the biggest pop bands in the world. Rising from the ashes of Joy Division after the death of then frontman Ian Curtis, New Order formed in 1980 with Bernard Sumner taking over lead vocals. The band blazed their way into the charts with the 1983 LP "Power, Corruption and Lies". The first single from the album, Blue Monday, topped alternative and dance charts around the world. From then on, the band have managed to consolidate their status at the top of pop's food chain. With "Get Ready", New Order present their first collection of fresh material since 1993. The new album features guest appearances from Bobby Gillespie and Andrew Innes from Primal Scream and Smashing Pumpkins' Billy Corgan. Sound like a rock record? While it certainly features more rock-influenced guitar-based grooves, the band don't plan on throwing their synthesizers away any time soon. Steinberg's Mark Porter talked to Bernard Sumner...

Mark Porter: What made you want to start making music?

Bernard Summer: Seeing the Sex Pistols showed me that it was more about spirit than virtuosity and I loved music but I suppose really the lifestyle was appealing. Escaping from the 9 to 5 existence with 2 weeks holiday a year and a boss and job you hate. Almost complete personal freedom was very appealing.

Mark: What was your fist gig with Warsaw like?

Bernard: My first gig was a bit like playing on the moon, I felt as if I was miles away and wondering what I was doing there and why.

Mark: How was it different to your first gig with New Order as singer?

Bernard: My first gig with New Order as a singer was the same except for different reasons.

Mark: You've often said you were heavily influenced by electronic bands like Kraftwerk. What other bands were/are you influenced by?

Bernard: Well, I was influenced by Kraftwerk - make another record guys - and other Groups - Cabaret Voltaire, Iggy [Pop], dance music, and tons of stuff - but only stylistically. The real heart of music doesn't come from other people's records it comes from your life experience.

Mark: New Order have been at the cutting edge of new technology since the beginning. What sequencers were you first using and when did you start using Cubase?

Bernard: The first sequencer we used was one I made from an electronic kit (Transcendent?) as used on Blue Monday. Only the Roland MC4 was available at the time and it was out of our budget. Actually Martin Hannet used an ARP sequencer on Decades by Joy Division (the bass drum) and previous to Cubase we worked with an engineer on the design of a computer-based sequencer.

Mark: How has computer music production changed the way you work over the years?

Bernard: Computers allow you to mould your music like clay, after it has been recorded. This can be a good thing or a bad thing, it depends on your self control.

Mark: How do you think artificial/computer generated sounds has affected pop music in general?

Bernard: I think computer generated sounds add more colors to the palette but more importantly new colors.

Mark: Are you still using hardware synths, or have you begun using the virtual ones? What experiences have you had with them?

Bernard: We used the Nord Modular on the new album also the Doepfer Modular at the moment. I think it's good to take your sounds from a lot of different sources - that way everything's not going through the same d-a. However some of the virtual ones make really interesting new sounds. I just can't stand doing everything with one hand and two eyeballs. Well, some things are alright!

Mark: You've been using synths for many years - how accurate do you find the emulation's of the classic synths that people like Steinberg, Waldorf, and Native Instruments have been doing?

Bernard: I'd only use a virtual synth if it did some thing new or a simulation if there was problem with the original instrument i.e. the Melotron - it's unwieldy.

Mark: How many of the other VST plug-ins do you use? Can we hear them in any particular song on Get Ready?

Bernard: I don't really use the plug-ins. I use VST as a writing and recording tool. I am really familiar with the program and find it very fluid compared to other programs, it's very quick to use and doesn't slow things down in the studio when we are writing. We don't bother with plug-ins or FX until we are at the finishing stages of recording and by then we have handed over to an engineer / producer (Steve Osborne on "Get Ready")

Mark: "Blue Monday" was a milestone in dance music production, and it has since been remixed several times. Do you feel that if there hadn't been a "Blue Monday" that the band would have been so successful?

Bernard: "Blue Monday" was obviously a highly successful record but because the sleeve was so expensive the more it sold the more it cost us and our d***head record company. Every time it went up in the charts it was bad news for us and as luck would have it, it went on to becoming the best selling 12 inch ever. Isn't life strange.

Mark: Are you using computers live on stage?

Bernard: No, we have been using an AKAI DR-16. Much less problematic than the old Yamaha and Sequential hardware sequencers we used to use. They do exactly what they are supposed to.

Mark: What other equipment do you use when writing/recording?

Bernard: We record my vocals through a Drawmer 1960 Compressor and Eq Mic pre-amp and go digital into whichever system we are using, and an old style Cole/BBC ribbon mike.

Mark: How do you see computer based music creation affecting music in the future?

Bernard: Who can really say. Would you have seen music going the way it has done if someone had asked you 10 years ago? I think with the emergence of Virtual Reality, we could "see and touch" our tools in a way like never before.

Mark: Are you planning on using the Internet more intensively for promoting or making your music in the future?

Bernard: Very probably. I think the Internet will get even more important for both of these.

Mark: Interested in using InWire Sessions/Rocket Technology or Internet-based music production tools?

Bernard: I think they would be a good timesaver but only when broadband gets even faster - (20Mb/s).

Mark: The Crystal EP was also released on DVD. Is the music influenced by the possibilities available through this medium - e.g. surround sound/digital media production?

Bernard: Not influenced as such but more and more stuff will be surround-encoded.

Mark: Thanks very much for taking the time.

New Order's Get Ready online: www.newordergetready.com
-----------------------------------------------------------------------------------------------------------
The Lyons Roar - Interview with Roger Lyons, Oct 2001
The Lyons Roar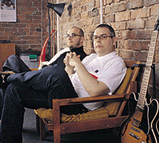 New Order's current tour is programmed by Roger Lyons, one of the UK's most venerated remixers and engineers. Having made a reputation for himself as a programmer on Simply Red's "Stars" album, he teamed up with Justin Robertson, operating under the LionRock moniker. The duo remixed songs for the best British indie artists around, including Chemical Brothers, Stone Roses and Manic Street Preachers. LionRock also made a name for themselves as composers, with kerosene-fuelled dance tracks like "Rude Boy Rock" and "Fire Up The Shoesaw" being played in clubs throughout Europe. Steinberg's Mark Porter talked to Roger Lyons about his VST addiction...

Mark Porter: How long have you been writing/remixing/producing music?

Roger Lyons: I have been involved in this kind of thing since being about 14 (in a very basic way).

Mark: What other bands or projects have you been involved with?

Roger: Woah there!! Lots of remixes under the LionRock banner (with Justin Robertson) (New Order, Manic Street Preachers, Stone Roses, Chemical Bros., and many more). Production wise: Circusgirls, LionRock, Olive and lots of dance stuff and my own projects. But in my case the lines drawn between remixing, programming, playing, engineering and producing have become very diffuse.

Mark: Were you using Cubase VST for all of these?

Roger: Virtually all of them. In the early days I used Pro 16 on the Commodore 64, Pro 24 and Cubase on the Atari and Cubase audio on the Macintosh. I got my Commodore in 1984-ish, Atari in 1986-ish and my first Mac in 1987. Because the Atari was a pile of shite. I had about one a month with various problems. (No I am not a Mac snob but they are the greatest computers EVER.)

Mark: What was/is your favorite project and why?

Roger: It could well be Circusgirls. This is the most enjoyable bunch to work with, great songs, great vibes, the next big thing.

Mark: You have been responsible for reprogramming all the new material for the latest New Order tour. How long have you been involved with New Order?

Roger: I have been friends of theirs on and off since 1980 but I have only been involved business wise for about 3 years.

Mark: Can you shed some light onto how you approached the work and the processes involved?

Roger: Well, we thought that some parts were required from original multitracks but many of these hadn't been played or looked at for over 20 years so when I was transferring Love will Tear Us Apart for example bits of oxide started to fly off all over (Scared!!!) so we sent all the old tapes to be baked to harden the oxide and then did a transfer into Pro Tools from multitrack. The audio was then put into Cubase for editing and tweaking before having bits sampled off and other bits transferred into the DR-16 for live playback.

Mark: You have used Cubase for some time now. What is it about the program you like and how does it make your work easier? How many of the VST-PlugIns available do you use? How do they help create that massive New Order Live sound?

Roger: I think in a way it is the easiest of all the major sequencers to get into whether your grounding is in music or the programming side and if I am working with someone who is inexperienced with computers they can still help me arrange by just dragging blocks about (a bit like Lego really ;-)). I use quite a lot of plug-ins. My faves at the moment are GRM tools, HALion (woo hoo), Waves 3, Attack, Northpole and Pluggo. I really need to get more into the VST instruments. To be honest it is mostly the Waves plug-ins that I use to shape the backing tracks (renaissance EQ/compression although I really like the VST EQ since version Cubase VST 5.0 and do use it a lot.
Mark: What special considerations do you make when re-programming for a live tour?

Roger: I usually make a bit more space for the band to play around in.

Mark: What do you think is the most exciting technology currently available / or coming up for music production?

Roger: I really like the look of the TC Works card, Houston looks great and I can't wait to try one. And I also think companies all over the world are hopefully starting to make good use of the possibilities of virtual reality using gloves, goggles and suit.

Mark: Many record companies are now re-mastering their back-catalogue material for re-release on DVD in Surround. Are you interested in surround for music production and have you started any projects?

Roger: Yes, very much so. I am involved with a classical quartet which I will be doing a surround mix of and even as I am writing this I am importing a New Order Gig (Liverpool 2001) from 40 track ADATs and I would like to do a surround mix of this in Nuendo.

Mark: You also own Nuendo software. Have you had the opportunity to use this on a commercial production yet? And what is it that attracts you to using Nuendo?

Roger: I have nowhere near got into this as much as I would like but now is the time. I think it will come into its own though with a control surface like Houston. Ask me again in 6 months.

Mark: What are your thoughts regarding the way in which native or host-based technology is now allowing a greater level of professional functionality/quality to the musician/producer than ever before?

Roger: I WANT EVEN MORE POWER. NOW!!!! It is a great time to start getting into computers because the power is now there for you all to get a project done from start to finish inside the computer. The only limit is your imagination and we need a better mind/machine interface - I have a nice spot marked out on the base of my cranium for that rev5 Firewire socket. COME ON GUYS GET IT TOGETHER ;-)

Mark: Roger, thanks very much for the interview.
Copyright ©2001 Steinberg Media Technologies AG. All rights reserved.