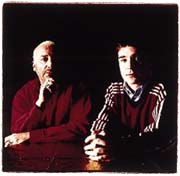 "He's had a commendable 20-year career, hasn't he?" asks David Potts rhetorically. Potts, one-half of Manchester's Monaco, is referring to his bandmate Peter Hook, who, according to the sticker on Monaco's new album and the posters promoting Music For Pleasure, is part of a much more popular band called New Order.
"It's worth exploiting the New Order connection," says Hook. "It gives you more than a fair chance to let people make up their own minds. I always used to read the music press and devour it. Then I formed a band and you stop reading it. You get to the point where you realize it doesn't matter what they say because it's only one person. It's like, if I don't like something, so what? This way maybe more people will give it a chance."
Hook is in a particularly ebullient mood. He started Monaco with guitarist David Potts--since Potts was the only one left standing after Hook's last venture, the less than superb Revenge--and has rebounded with a very strong offering.
"It was a very confusing period of my life because I had lived and breathed New Order for so long a time," says Hook. "I was terrified of the time off. Now I look forward to such time, which shows how much you can change in just a few years. I wanted Revenge to be different. I tried not to play bass. I had to learn to write and sing. It didn't sound particularly right."
Ironic, you figure, considering that Hook is one of the most distinctive bass players in pop's short history. As a member of Joy Division, Hook had pioneered a loud, higher-than-usual pitched bass playing that carried the song melodically where most players punched only rhythmically. After Joy Division's singer Ian Curtis committed suicide on the eve of their American tour, the rest of the band chose to continue on as New Order--a move which saw greater commercial success, as their sound turned poppier and increasingly accessible.
"We were four lads that made music together and the chemistry between us was very powerful," says Hook. "Personally, we didn't have a bleeding clue. It just worked. We had nothing to say. We didn't want to change the world. We didn't have a world domination scheme."
The success was welcomed; however, New Order grew tired as a unit and other paths seemed worth pursuing. Hook, never a fan of the studio, found himself holed up with his next project, the ill-fated Revenge. A young tape operator David Potts turned out to be the project's saving grace. Potts' guitar playing awakened something in Hook and it became obvious the two would collaborate on something new--something Potts never anticipated when he took the tape-op job in Hook's studio.
"I'd never been in a band before," says Potts. "I didn't really want to be in a band. It just sort of fell into place. We were the only two left." "It's the hardest piece of work I've done," maintains Hook. "With New Order, there were four of us. Now there's two, so you have to put in 50% not the usual 25%, but as a result your 25% happier than before. I don't enjoy working alone. That guy in Dinosaur Jr. [J. Mascis], who does he talk to? Himself?"
"It's what chemistry is, really. Bouncing off one another," says Potts. Hook wants it known that this kid he's sharing the limelight with is an extraordinary talent. "Everyone thinks I'm nurturing him," laughs Hook. "But he's the one pushing the wheelchair around saying 'Listen to this, you deaf bastard.'"
Music For Pleasure features an atmospheric blend of pop, dance beats and moodier numbers that transform into an extremely well-honed blend of both retro and modern styles. Potts, a former record store clerk, gets the credit for leaning things in this direction. "He's more adventurous than I am," says Hook. "He's a voracious listener of all types of music. I'm not a big music fan. I listen to dance music."
Potts chuckles at this comment. Hook continues. "I've always enjoyed playing America more than England. Americans are much more into the personal power of music. It's difficult to talk about. It's that typical obsessive male thing."
I mention casually that British author Nick Hornby's novel High Fidelity seemed to grasp that obsessive nature. To which Potts and Hook immediately concur.
"Yes," says Hook.
"There was this guy I knew who could walk into the room and tell when his girlfriend had not put a record back properly. He told me there's a record store on Old Kent Road that he got in and there's hundreds of LPs in a massive box in the middle of the floor. He couldn't bear that they were out of alphabetical order. He'd go in at lunchtime and put them in order."
Did he ever finish the job?
"No," says Hook, smiling broadly. "He got thrown out of there."
This self-proclaimed British obsessiveness with things other than the music is something of which the two Monaco men are trying to keep a clear head.
"It's important to enjoy what you do, make music for yourself," says Hook.
"I remember running into Damon [Albarn, singer for Blur] and he's complaining about Oasis. He was really upset about it. There's no comparison. It's just a press thing. I told him, 'You've sold fucking shitloads of records. Don't be such a fucking wuss.' He believes what he reads in the press."
As if to salvage my own precarious ego, Hook assures me that American journalists are like their audience counterparts and more attuned to the music than the bogus angles dreamed up by the English press.
"Years ago, we had a journalist from Sounds, a big English music paper, and he was on the road with Joy Division and he was asking us questions about our records and he eventually admitted he hadn't actually heard our new album."
"One of the early reviews of this album had the facts wrong," says Hook. "It was slagging us. Which is fine, but at least get the facts straight."
The facts as they stand at present are that this dynamic duo are adding three players to their road ensemble and waiting to see how much actual touring they'll decide to do. If all goes well, they'll hit the road for an extended spell and save Hook from the dreaded grind of going back into the studio.
"The two of us working in the studio was nice," says Hook. "But I can't stand the studio. It feels like you're in prison, the way it stops your life. I find it quite an imposition. There's more energy with the three other people. I want to put in front of people and give Pottsy here a chance to see what it's like on the road."
© Launch online.1997