Better...and Twisted By Steven Dowling
© 1999 Direct Network Publishing plc
http://www.music365.co.uk/
Third album 'Twisted Tenderness' finds ELECTRONIC finally shaking off the giant spectres of THE SMITHS and NEW ORDER. The revitalised superduo of JOHNNY MARR and BERNARD SUMNER do some downloading with STEPHEN DOWLING.

TEN YEARS IS A long time for a band to be considered a side-project. Especially when one of the bands casting a shadow is already dead, and the other seems far from the rudest of health.

Bernard Sumner and Johnny Marr have had plenty of time to become philosophical about the way their relationship is perceived. When one of you is in New Order and the other was the musical muscle behind The Smiths, it's naive to think there won't be associations. Getting Electronic respected as a band in its own right has been a long struggle.

It's a few hours after the filming of Electronic's Top Of The Pops performance, and Sumner and Marr are sitting in the bar of their hotel, perusing the menu. The crowd of suits loudly braying about meetings and office politics spare them not a glance. The pair chatter and gripe like the old friends they are: Morrissey may have regarded New Order as the enemy of The Smiths in the mid-'80s, but a young Johnny Marr was an enthusiastic fan of Sumner's material. Likewise, Bernard Sumner was already itching to work with the guitarist long before The Smiths dissolved.

But most of that mutual admiration and friendship has been out of the public eye. What the public have seen is a kind of Manchester superduo coming together at irregular times, and in some critical eyes falling short of expectations.

"I think the assumption with a project is that it's a dalliance," says Marr. "The important thing with groups is that it's your life and commitment and all the rest of it. Because of our past and who we are it's easy to assume that my people talk to Bernard's people and we get together in Hollywood.

"... And don't forget the tax bill!" pipes up Sumner, slipping suddenly into the slimy tones of an American record company exec. "'You guys you got a real big tax bill, you gotta make another album'."

"We're in the wrong band for that, then," laughs Marr. "We work together, without exaggeration, almost every day except for a few little breaks... to us it doesn't seem like 'a project' or a 'hobby'. In ten years a lot of bands could put out loads of stuff, but The Stone Roses put out three albums in 14 years, and they're seen as a group. My vibe on it is I'm perfectly happy to have done one great album every few years than just put out stuff that's kinda alright."

Electronic's back catalogue has delivered some fine alternative pop moments, but never that 'great album' that the duo desired. Until now, that is.

'Twisted Tenderness', the follow-up to Electronic's somewhat underwhelming 1996 LP 'Raise The Pressure', is everything you could hope for from Marr and Sumner's partnership - it's an album that hints at the past glories of both members, but more crucially finds Electronic realising their own separate identity.

The title track may sound like a lost classic off New Order's 'Technique', but much of the rest of the album - the frazzled-but-euphoric power-pop tracks 'Late At Night' and 'Like No Other' plus the murky, metallic stomp of 'Haze' - shows Electronic spawning a legacy all of their own.

The pressure to make music that can stand up with the best of The Smiths, New Order and Joy Division is not lost on the pair. "If you're a new band and you make a record this good you get a lot of attention, people go 'it's fucking brilliant, it's a work of genius'," says Sumner. "But because our other bands wrote music at that level we are expected to write to that level."

Some Smiths fans seem condemned to forever thinking that Johnny Marr's post-Smiths career will never be able to touch his five-year partnership with Stephen Patrick Morrissey. It seems an unfair weight for an artist to operate under. "You've either got to be massively philosophical about it and say, 'well, maybe it's our destiny, and it's a way of keeping it interesting enough'" says the guitarist. "On the other hand, you can just say 'fuck it'. If it's a dilemma, it's a nice dilemma."

"I do remember the frustration of feeling you are pretty good and have something to say, and not being heard." Marr continues, "I mean I was pretty young and I didn't give a shit, you know, I felt like a lot of the groups that were in the charts when I was younger were just rubbish. And that what I was doing with my mates was actually a lot better. And it wasn't arrogance it turned out to be true."

Hopefully that frustration won't stay around for much longer. 'Twisted Tenderness' - largely free of the silky techno sheen that characterised their first two albums, 1991's 'Electronic' and 'Raise The Pressure' - is their best shot yet at breaking Electronic free from the constraints of their previous endeavours.

"I think we've learned that there's something wrong with perfectionism," Sumner says. "I think with the past two albums we were perfectionists and we were very, very precious about our work, overly so. And I think people find perfection boring. I think people like to hear the hand that made the record and not the computer that made it perfect. And so on this album, we originated tracks on guitars and then went to the band, we played it as a band and then the technology was added on at the end."

"You get a spirit in there that you can't get put in afterwards you know," says Marr. "We're not by any means lo-fi but we're just into more of a noisier, kind of guitar sort of vibe. But who knows what's going to happen in a few years. We might want to do something together or separate in an instrumental, kind of Eno angle. We're not saying that we've had a conscious change of direction or anything just times change, don't they? I'm personally very into change. Keeps things interesting.

"With this album, I think it's fair to say that we really didn't care where anything was at, other than where we were at. And we didn't think 'how does this stand up next to, say Beck or how does this stand up next to Radiohead or any of that sort of stuff ."

Another big difference is that 'Twisted Tenderness' is much more of a band record - Sumner and Marr originally formed Electronic to escape the tensions that had built around their earlier bands.

"Johnny had had a kind of acrimonious split with The Smiths," Sumner explains, "and with me I had not split with New Order, but things had got fraught. Just through touring and being together for so long, all the political shit that you get with bands. We didn't want that. There's two of us, it's easier to get two of you to agree than it is to get four of you to agree. We didn't want anyone else involved in it."

But that attitude seems to have changed. On the new album, Sumner and Marr surrounded themselves with the first 'proper' band of their ten-year career. It includes Astrid Williamson on backing vocals, Ged Lynch on drums and Guy Pratt on bass with ex-Marion guitarist Phil Cunningham.

But, despite Electronic becoming more like a traditional unit, the writing responsibility falls firmly on the shoulders of Sumner and Marr. As Marr explains, their partnership has a constant need to prove itself.

"We have got so much to prove to ourselves just as individuals, we don't need people to add any more criticism than we do. We have to impress ourselves and that's a tall order. Any other sort of criticism is nothing compared to the kind of scrutiny we put ourselves through. Not neurotic scrutiny, just, you know, we expect a lot from ourselves."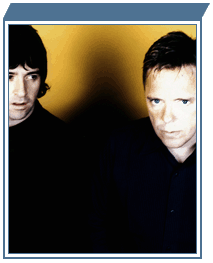 A FEW SECONDS INTO 'Haze', the second track of Electronic's new album 'Twisted Tenderness', and it dawns what has happened. Johnny Marr has fallen in love with the guitar all over again.

Not that he'd entirely given up on it, but it would be fair to say that 'Electronic' and 'Raise The Pressure' didn't exactly come cluttered with Marr's trademarks of whiplash riffs and glowing chords.

"I've always been into it but this phase that I've been in the last 18 months was almost akin to the way I was when I was 15, 16, 17," Marr says in between mouthfuls of lunch. "Bernard started to play guitar again, which was interesting. I hung out with Bernard Butler a lot which was great for me and I hung out with the guy that is playing guitar with us, Phil from Marion, so I had a bunch of guitar buddies and it was just different from the way we worked before.

"But the very first song on the last Smiths' album ['Rush And A Push And The Land Is Ours' off 1987's 'Strangeways Here We Come'] doesn't have one guitar on it, it was me kind of proving the point to myself really and the other members of the band. Bernard's the only real synthesizer player, proper synthesizer player that's ever come out of England and I was into working with that "

"Synthesizers were das verboten in The Smiths," Bernard Sumner says good-humouredly, "it was a guitar band. When Johnny started to work with me, we got all those computers and stuff in the studio and he was like 'wow, what can this do, what can this do, let me have a look at that'. It's only natural.

"I think the other thing is that me and him have got very open minds to music and we didn't draw the line between instruments. We've always said that it didn't matter what instruments a song had in it. The instrument is a decoration of the song and it is the song that counts."

The three months that Electronic spent recording the album - most of it in Peter Gabriel's Real World studio near Bath - was a relatively bloodless affair, probably helped by the fact Marr and Sumner had written the album before they set foot in the studio. "The songs were already written before we went in there which was very useful," says Marr. "And we had this big board with 14 completely written songs on it, which is a dream really."

"In the past it's just been me and Bernard and an engineer, and it's just been like a three-way thing that goes on day after day after day after day. When you're taking care of all the aspects of the records you have to either make some sacrifices, or you spend ages putting it together. Because Arthur Baker was co-producer and we had a few people behind us and a bit of a band, guitars and guitar playing was on my mind, more than it has been for ages. I was really inspired by just guitar playing."

"It was good having other people around as well so that it wasn't just our opinion. The air can get rarefied when it's just the two of you because you've only got a certain cache of taste and a certain record collection. When you get other people involved you are increasing that area of knowledge. But it also takes expanding, and refreshing and renewing our tastes."

For the mixing of the album, co-producer Arthur Baker had an ace up his sleeve in former New Order collaborator/mixer Merv de Peyer.

"Merv was important because we felt that he was so inventive with technology that we would have been foolish to restrict him creatively and we let him just do his thing and 95 per cent of the things he did were kept in," says Johnny Marr.

"He had his own little programming room," Sumner adds. "And he used to like to get in there and we'd slide in an envelope full of pot, he'd smoke tons of pot and we'd shove a tape under the door and be like, 'Right Merv, are you finished with it?'. He'd shove the tape back out and we'd be like, 'What the fuck has he done with it?'"

The preciousness that Marr and Sumner earlier admitted coloured the early part of Electronic's career has semingly dissolved. Chalk a certain anmount of it up to creative maturity perhaps, but both seem happily relaxed. Johnny especially seems to thrive on talking about music. After this interview he happily sprawls on the couch and chats about tunes for half an hour, recommending record after record.

It's possibly this enthusiasm for music that got in the way of his relationship with Morrissey. Where The Smiths' singer wanted a narrow ideal drawn from '60s pop, Marr wanted to try his hand at everything. When he left at the end of 1987, splitting the band up in the process, it was because of frustrations at The Smiths' limitations. There was just too much going in music to stick to one narrow road.

"The reason I moved back to Manchester in 1987 was for that very reason," Marr points out. "I was in New York and a week had passed by, and I realised that no-one was playing me any music. The night before I left my friend Jeff was playing this cassette that Shaun Ryder had given him that had Donovan on it, and we were really grooving to it, and then later on that night we were listening to 'Low' by David Bowie. And I just thought 'what am I doing in New York?' when the night before I'd left I'd heard all this great stuff."

"I've got one of those snazzy 200-play CD players," he continues. "If I were to go home now and leave it on shuffle play, you'd hear Lee Perry from the 'Arkology' box set, Peter Green's Fleetwood Mac, a good track from the Jurassic 5 album, and then maybe Badly Drawn Boy and an old T- Rex song. And most of me mates don't bat an eyelid because they do the same thing."

For a group who have largely shunned live performances - aside from their 1990 debut as guests of Depeche Mode and a string of gigs around the release of 'Raise The Pressure' - both Sumner and Marr seem animated at the thought of taking 'Twisted Tenderness' onto the stage. European festival appearances are already being talked about but neither will reveal whether they will include British dates, or whether a UK tour will follow.

"It's the million-dollar question at the moment," Marr responds. "We want to play live and we've got a really great band and a great vibe with that band. All the things that count are there. It's just a matter of whether we can do it economically and logistically. I haven't played live for ages, and I've done a couple of things recently that have really made me want to do it again. I was never that mad on playing live, 'cos I was on such a mission to make records that when I made records that was all I wanted to do. In The Smiths days the live thing was more Morrissey's side of it."

It's amazing what a few guitar buddies can do for you.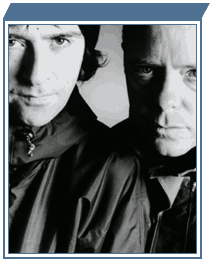 IT WASN'T UNTIL THE morning of New Order's Reading comeback gig last year that Bernard Sumner realised what he had got himself into.

New Order - who had taken a long, long break after 'Republic' in 1993 - had already played a homecoming gig of sorts in Manchester earlier in the summer. But this was the real moment when a long-fancied return to the stage became sobering, stadium-sized reality.

"In Manchester, I wasn't nervous at all, except 20 minutes in the bus from the hotel to the gig," Sumner says. "But once we got on stage it wasn't too nerve wracking. But Reading festival there were 65,000 people there, and it was only the second time I'd been on stage in five years, and I woke up that morning thinking 'Fuck me! What have I done?'.

"It was very important for me to get back on stage with New Order, it was a personal hurdle 'cos it felt like falling off a horse," he adds. "I kinda lost me confidence a little bit, I had to get back on stage to believe in myself a little bit more."

It was the touring, more than anything, that caused New Order's fragmentation, which is maybe why Electronic have become so cautious about taking their music onto the road.

Bernard Sumner is no longer the chemically-friendly party animal who contributed so much to New Order's reputation for narcotic excess. The man who nonchalantly admits he couldn't enter a studio or step on stage without a certain Colombian substance buzzing around his system. 'Twisted Tenderness' is the first album he has made - since the long distant days of Joy Division - without relying on drugs to help boost the creative juices.

He runs two miles a day, and shuns the lying-in-till-noon cliché expected of rock stars. "If I don't make myself get up early I can't sleep," he says. "I've had periods in life when I've been a complete insomniac, there are times when I've been on tour in the States, everyone's gone to bed, you're bored out of your head and there's 56 channels of TV on. I remember once being completely wired after a gig, going back to the hotel room at four in the morning, flicking through the channels, and all there was was stuff like Firewalk With Me, and every one seemed to have a horrible murder scene. It was a night of psychosis."

Bernard Sumner tried the same kind of cold-turkey approach before Electronic recorded 'Raise The Pressure'. He had become disillusioned with the way his lyrics were repeatedly visiting some old personal demons.

"I went through quite a long period of my life - from my teens till about 30 - where I had a lot of problems of a personal nature, and all my lyrics used to be about myself," he relates. "And now I don't have any problems worth writing lyrics about. On 'Raise The Pressure' two things happened - I stopped taking drugs to write, 'cos I used to take drugs all the time, every time I worked in a studio I would have a grams of coke, every time I was on stage I'd do it and drink. And on the last album I decided I wasn't going to do that anymore. Also I decided that I couldn't really write songs about myself anymore. And that freaked me out for a couple of months and I couldn't write anything. Then I learned to externalize my lyrics and write about things going on in the outside world, or a conversation over dinner, or something you might see in the street, or on television or in the newspaper. The track 'Flicker' is the perfect example of that. I've still got problems, don't get me wrong, but not serious problems."

But, of course, when it came to kicking the coke on 'Raise The Pressure', something got in the way...

"I've just decided to stop using coke, and someone [a clinical psychologist making a BBC2 documentary about artists] came along and said 'how do you fancy taking Prozac for seven months?'. It was getting off one bus straight onto another like a fucking idiot! This guy was a clinical psychologist, and later I found out he was a bent clinical psychologist, and his idea was based on something Freud said, that all artists were fucked up, they were basically ill and that's why they were artists. His idea was that I was fucked up, and I suppose I was a bit. He was going to give me the Prozac to stop me being fucked up and see how it affected my output. I thought that was pretty interesting, and to be honest I just wanted to try it out. I don't suffer from depression but I have ups and downs, probably because I took so much cocaine."

The project became a headache for Sumner, who only heard on a radio news report that the finished documentary stated that he was suffering from severe depression and had not written any music for the last two years - a falsehood that left Sumner threatening to sue its creator.

Prozac created other problems for him too - it shut a door to where Sumner had been mining his lyrics for the last two decades.

"I really could not write... I found it really difficult to write melodies and to write lyrics, definitely lyrics about myself. When you write lyrics you dig deep inside, you daydream, you hit some connection between there" - he taps his heart" - and there" - he points to his head. "That connection just went. I thought 'I've got to write lyrics, everyone's waiting for me to finish the album', and I did it about outside. It did change the way I think, and in the long run it was a good thing because it changed the way I wrote lyrics."
Sumner's lyrical approach now is much less introverted. It's not just on 'Flicker' that he seems to be pulling himself out of his own problems and facing the world. 'Like No Other', 'Late At Night' and 'When She's Gone' all seem to find a sense of hope and euphoria in the outside world that has nothing to do with chemical highs. And 'Prodigal Son', while much darker - "you may be a star in your own mind/but you're greatly deluded in mine/I heard reports that you drink/and take drugs most of the time" - also sees the him managing to recognize the pain other people, rather than fixating on his own.

Such is the development - and the new lease of life - that Electronic have discovered ten years into their career that it seems ludicrous to think that this famous partnership might not make it onto the road. It also begs the question that this prolific pair might already be looking at album number four, they're on such a roll...

"I think we always do things album by album, we always have done through our careers," says Johnny Marr. "A lot's made, and quite understandably, about how tragic it was that The Smiths split up having done only five years. We did seven albums in that time, and to be honest with you, it's amazing that it lasted that long, just because it was so intense. I've always thought album to album anyway, 'cos you're working on such a big thing in your life, it's like a mountain and you can't see about it."

But Marr's in no doubt that we haven't seen the last of Electronic. "A lot of people have stuck with us as individuals... the more time goes on, I feel some of the things that have been said to me by strangers are just so sweet and inspiring that I'd like to return the compliment. Even in the last year and a half: a guy came up to me in Real World, and said 'the world's a better place because of your music'. I just froze, I thought 'what an incredible thing to say.'"


© 1999 Direct Network Publishing plc