WARNER BROS 06/96
BERNARD SUMNER Vocals, Keyboards
JOHNNY MARR Guitars, Bass, Keyboards
Bringing together mainstays of two of the most influential bands of the last 15 years -- Bernard Sumner of New Order and Johnny Marr of The Smiths -- the music of Electronic has exceeded even the high expectations that such a creative partnership undoubtedly engenders.
Now, with the release of Raise The Pressure, Electronic has raised the stakes with a collection of original songs that don't stretch the expressive boundaries of modern music, but shred them entirely. Produced by Electronic, Raise The Pressure features the group's new single and video, "Forbidden City," as well as such potent, propulsive tracks as "Second Nature," "For You," "Dark Angel," "One Day," "Free Fall" and "How Long." Guest musicians include Kraftwerk keyboardist Karl Bartos and Primal Scream vocalist Denise Johnson, as well as drummer and percussionist Ged Lunch, keyboardist Danny Saber and bassist Guy Pratt.
The duo first met in 1983, when Johnny Marr was recruited to play guitar on a album by the group Quando Quango, which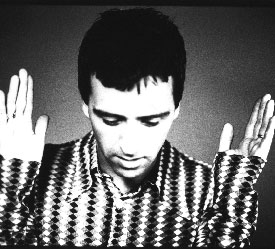 Bernard Sumner was producing. The pair stayed in touch, and in 1988 formed Electronic. Their debut single, "Getting Away With It," featuring co-writer Neil Tennant of The Pet Shop Boys on backing vocals, was released the following year and immediately climbed to No 11 on UK charts, as well as selling over 350,000 copies in the UK.
Electronic's eponymously-titled debut album followed, yielding two more UK hits --"Get The Message" and "Feel Every Beat" -- along with reams of ecstatic press, including the bald-faced claim for Melody Maker that Electronic was "one of the greatest albums of all time."
It was a popular and critical groundswell that might have suggested a quick return to the studio, but it wasn't until 1992 that Electronic was heard from again, and, while it was only with the single "Disappointed," Electronic fans kept the faith by making that track another substantial U.K. charter and pan-European hit.
Now, six years after their debut album, Electronic returns with Raise The Pressure. A collection of thirteen new songs, Raise The Pressure meets, matches and exceeds Electronic's first album from the opening note to the final fade. With a sound and substance that ups the ante for millennial music, Raise The Pressure is worth the wait.
© 1996 Warner Bros