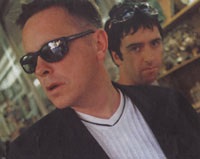 The burden of expectation can prove overwhelming when two high profile artists join forces – and such has certainly been the case with Johnny Marr and Bernard Sumner. Sumner took a break from New Order to form Electronic with Marr who quit the Smiths.
After an outstanding debut album in 1991, the duo's follow-up, Raise The Pressure, took five years to materialize and disappointed many. But with their third album Twisted Tenderness (released on April 19) they return with a tough, vital sound that is a direct result of the reaction to their last album – and it rocks more than The Smiths or New Order ever did.
Sumner says, "We've never been part of any movement and neither were our previous bands, but there's always been pressure because they were regarded so highly. We get extra special attention and I think people ask for a bit too much."
Three years in the making, Raise The Pressure was received with something approaching boredom on its release in 1996 and despite retaining the melodic edge of their best work it sounded too slick and lightweight overall.
"Some of the criticisms leveled at it were valid, particularly that we'd airbrushed a lot of the spirit out of it by spending so long on it," says Marr. "We felt like there was a magnifying glass on us so, in turn, we put one on ourselves."
The duo wrote and recorded Twisted Tenderness in 12 months and sought to restore the lost edge. The results can be heard on the first single Vivid, released on April 5, which allies powerful rock guitar and Smithsy harmonica to weighty, programmed beats, live drums and a typically deft, wistful tune.
Sumner says, "Raise The Pressure didn't hit the spot, so we felt we had to change things. A lot of the feedback we were getting suggested that there wasn't enough of Johnny's guitar and we had to agree he was under-utilised.
"Synthesizers were banned in The Smiths so when we began working together I brought all my synths into the studio and Johnny started to explore them. He wanted a holiday from the guitar, and so did I really."
The duo's refocused approach was reflected in the way they wrote the album's songs. Instead of writing in the studio, putting down the technology first, they simply sat down with a guitar round at each other's homes, penning melodies and vocal lines.
Marr says, "It felt natural to plug in and write a song on the guitar again. We didn't want to spend a great deal of time on it. In the past we've used the studio as an instrument and we've written as we recorded. There's a place for that but this time we had most of the songs ready."
They worked up the songs in their home studios before fleshing out the demos in April last year with a live band featuring former Black Grape drummer Jed Lynch and ex-Sub Sub bassist Jimmy Goodwin (now with Doves). They then went into Real World Studios between May and July, where they put down the songs with the aid of programmer and former Cameo keyboardist Merv De Peyer.
Producer Arthur Baker also came in and added his own sense of dynamics and groove to several tracks. Although Sumner had worked with him in the mid-Eighties on seminal New Order tracks such as Confusion and Thieves Like Us, it was Marr's decision to approach Baker, who is now based in the UK.

Given the relative commercial failure of Raise The Pressure – it sold less than 100,000 copies – the duo resisted the temptation to add some celebrity cameos into the mix as they had with Neil Tennant on their debut, and the label did not push them down such a path. Parlophone A&R director Miles Leonard says, "I think if we had suggested that it would have looked like we don't have any faith in them which is far from the truth. They deliver the thing as a whole but we knew at an early stage that it sounded good and we were happy to let them go on with it."
The result, he maintains, is Electronic's strongest record so far. "They knew what they wanted to do with the sound and they've made a really approachable but powerful record. Johnny's guitar sounds better than ever and that makes the whole thing sound so alive. There's a rock edge to it that Electronic haven't had before. It's almost like you only had half the story before."
The sound inevitably lends itself to live performance but the duo are unsure about whether they will tour for the first time since 1991, as Sumner intends to record again with New Order in the summer.
"I like to play live but it took us a long time to find the right musicians for the album and unless we can work with them I'm not sure," says Marr, non-commitally.
Hopefully he will come round to the idea, since he has been absent from the stage too long.
©Mike Pattenden